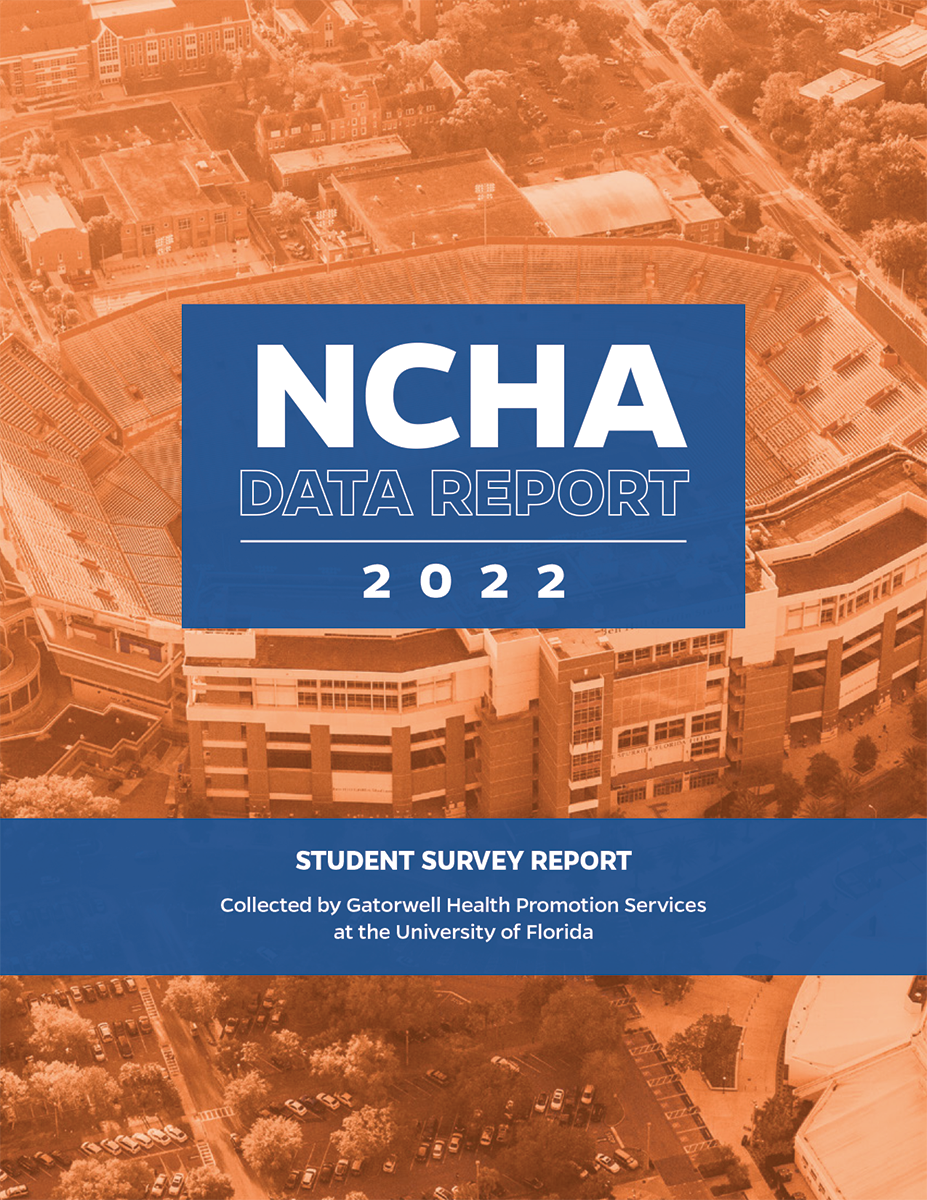 American College Health Association – National College Health Assessment (ACHA-NCHA)
The ACHA-NCHA is a nationally recognized research survey that collects precise data about students' health habits, behaviors, and perceptions.
University of Florida Student Survey Report collected by GatorWell Health Promotion Services.
Historical Data
Healthy Gators Student Survey
The Healthy Gators Coalition created the Healthy Gators Student Survey in fall 2007 and administered it to randomly selected UF students in the spring of 2008, spring of 2010 and spring 2013. It is a comprehensive health survey of UF students addressing ten key areas:
1. Impediments to academic performance
2. General health
3. Medical problems
4. Mental health, sleep and stress
5. Sexual health and contraception
6. Alcohol, tobacco and other drug use
7. Nutrition, weight and exercise
8. Sexual assault and violence,
9. Vehicle safety and sunlight/UV exposure, and
10. Campus health services, resources and policies.
For questions please email GatorWell or call 352-273-4450.
Core Alcohol and Drug Survey
GatorWell regularly administers the Core Alcohol and Drug Survey, a national survey designed to measure alcohol and other drug usage, attitudes, and perceptions among college students at two and four-year institutions. The survey address topics such as alcohol and other drug use, negative consequences, effects of alcohol, behaviors, and impact of other students' drinking. The survey was administered in Fall 2006, 2007, 2009, 2010, 2011 and 2013. 4,000 randomly-selected, full-time undergraduate and graduate students age 18-24 were invited to participate in each survey administration.
Sexual Health Student Survey
The Sexual Health Student Survey was administered in spring 2009 by GatorWell to gather relevant health data from UF students in these key areas:
1. Sexual behaviors
2. Contraception
3. Condom use
4. Sexually transmitted infection testing and Human Papillomavirus vaccination
5. Pornography consumption, knowledge
6. Self-efficacy
7. Sources of information
8. Campus resources
Stress, Time and Sleep Management Survey
GatorWell developed the Stress, Time and Sleep Management Student Survey to gather health information from University of Florida students to identify needs and prioritize campus programs and services in these health-related areas. The survey was administered in fall 2009 to examine different aspects of stress, time and sleep management including behaviors, barriers, management strategies, perceived importance, and relationship of these issues to academic performance.
National College Student Health Data
Below are some reliable sources of national health data for college students: