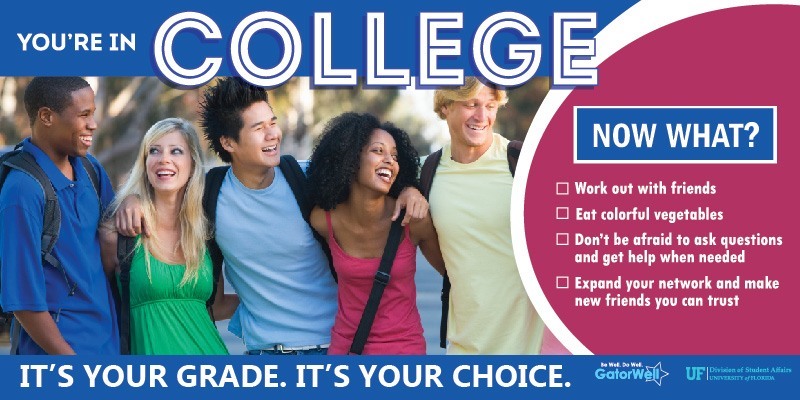 You're in College…Now What? It's your life. It's your choice.
The GatorWell team hit the pavement on campus to find out what advice sophomores and juniors would give to incoming students. When asked what they wish someone had told them to make their first year of college more successful, they offered some easy tips!
Self-care Tips
Shifting from high school to college can be intimidating.
You'll experience: a new and much bigger environment, crowds of unfamiliar faces, and a daunting (but exciting) number of opportunities!
How will you take it all in? First things first, adjust your mindset: You are young and flexible; challenge yourself to step out of your comfort zone!
College is a wonderful opportunity to make "friends for life"
There are numerous ways to get engaged on campus that allow you to interact with all sorts of people.
Visit the UF Student Activities and Involvement website to start exploring your options.
Check out GatorConnect to find student organizations that might be a good fit for you.
Want to stay active while making new friends? Consider joining an Intramural Sports Team through RecSports.
Be sure to look at the entertainment activities hosted at the Reitz Union.
Want to improve your leadership? The Center for Leadership and Services is a great resource for matching your talents and interests with real world experiences.
Also, check out the Center for Undergraduate Research for opportunities to get involved in research covering all academic fields at UF.