---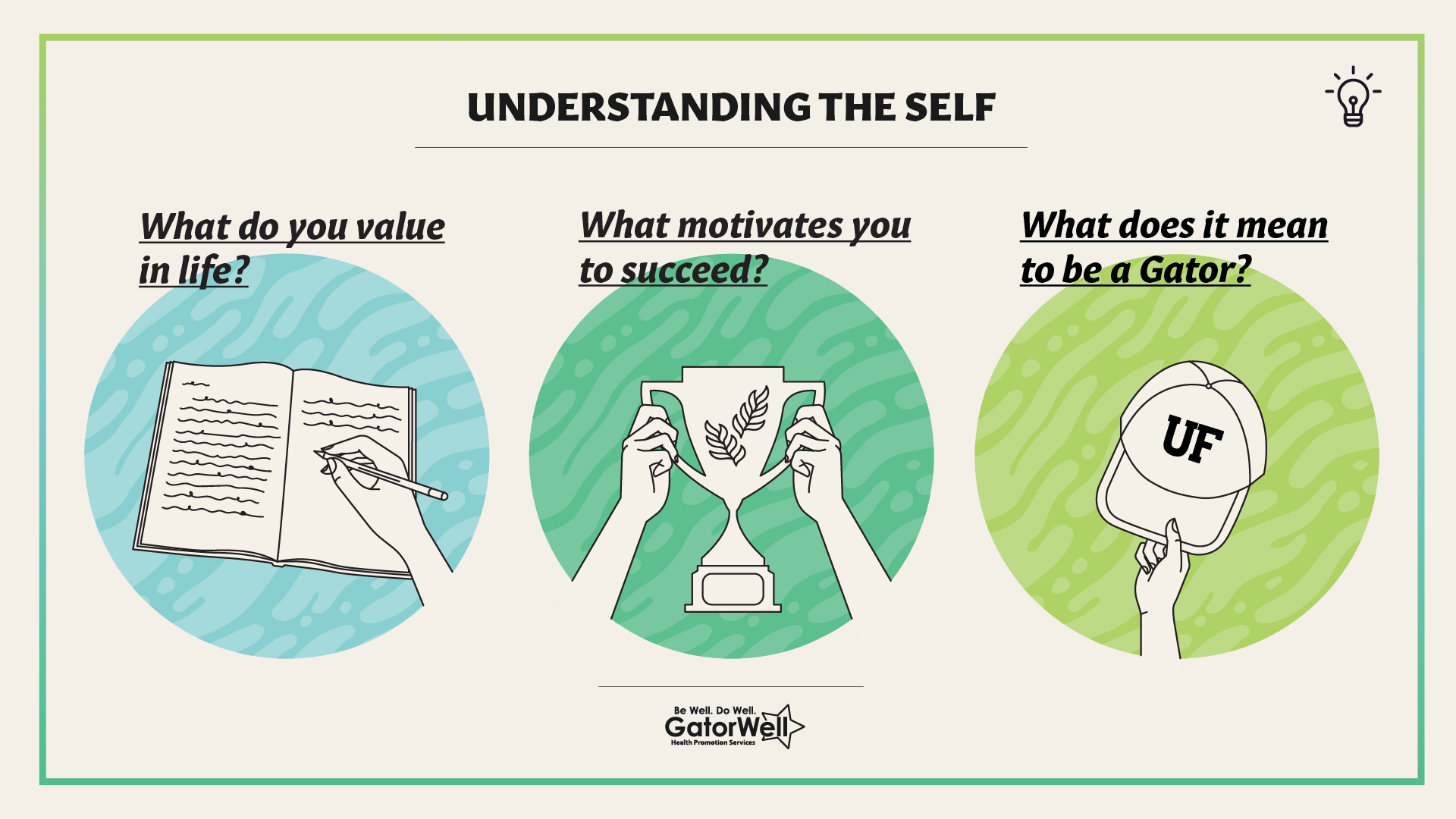 A major part of your college experience is about figure out who you are and better understanding yourself. Whether it is what you value the most, who you surround yourself with, how you makes decisions, what motivates you to succeed, and figuring out what it means to be a healthy Gator, there are questions you will have to ask yourself at some point, while in college. 
To start better understanding yourself, you may consider the following questions and content.
What do you value in life?  
Your values are the things that you believe are important in the way you live and work. When the choices that you make and things that you do in life match your values, you are left feeling more satisfied and content. Examples include loyalty, kindness, honesty, courage, patience, integrity, gratitude, love, inclusion, forgiveness, education…the list goes on and on.
To discover your values, consider the following:
Define at least three values/beliefs that are foundational in your life
Think of three people you admire or love and what you value most about them
Consider taking a values clarification inventory
Observe yourself and learn from you experiences
What motivates you to succeed?

Motivation is the reason why you act or behave in a certain way and is the driving force that pushes you to take action, in spite of fear or the unknown. It gives you a sense of direction and power to attain the results to aspire to gain.
To discover what motivates you, consider the following:
Identify at least one thing that motivates you or has motivated you in the past AND do more of that!
Think about what are you most inspired by. How can you turn that inspiration into action?
Ask yourself what you are passionate about.
Surround yourself with successful and motivated people. 
What does it mean to be a Gator? Content:
From the moment you chose to apply to the University of Florida, you likely have considered what it would mean to you to "Be a Gator." There is a sense of pride and spirit that comes along with being a part of the "Gator Nation."
To discover what is means to be a Gator, consider the following:
Identify at least one thing that you feel defines what being a Gator means to you.
Think about what traditions, connections, events, people, involvement, experiences have shaped you into being a Gator. What makes you bleed orange and blue?