---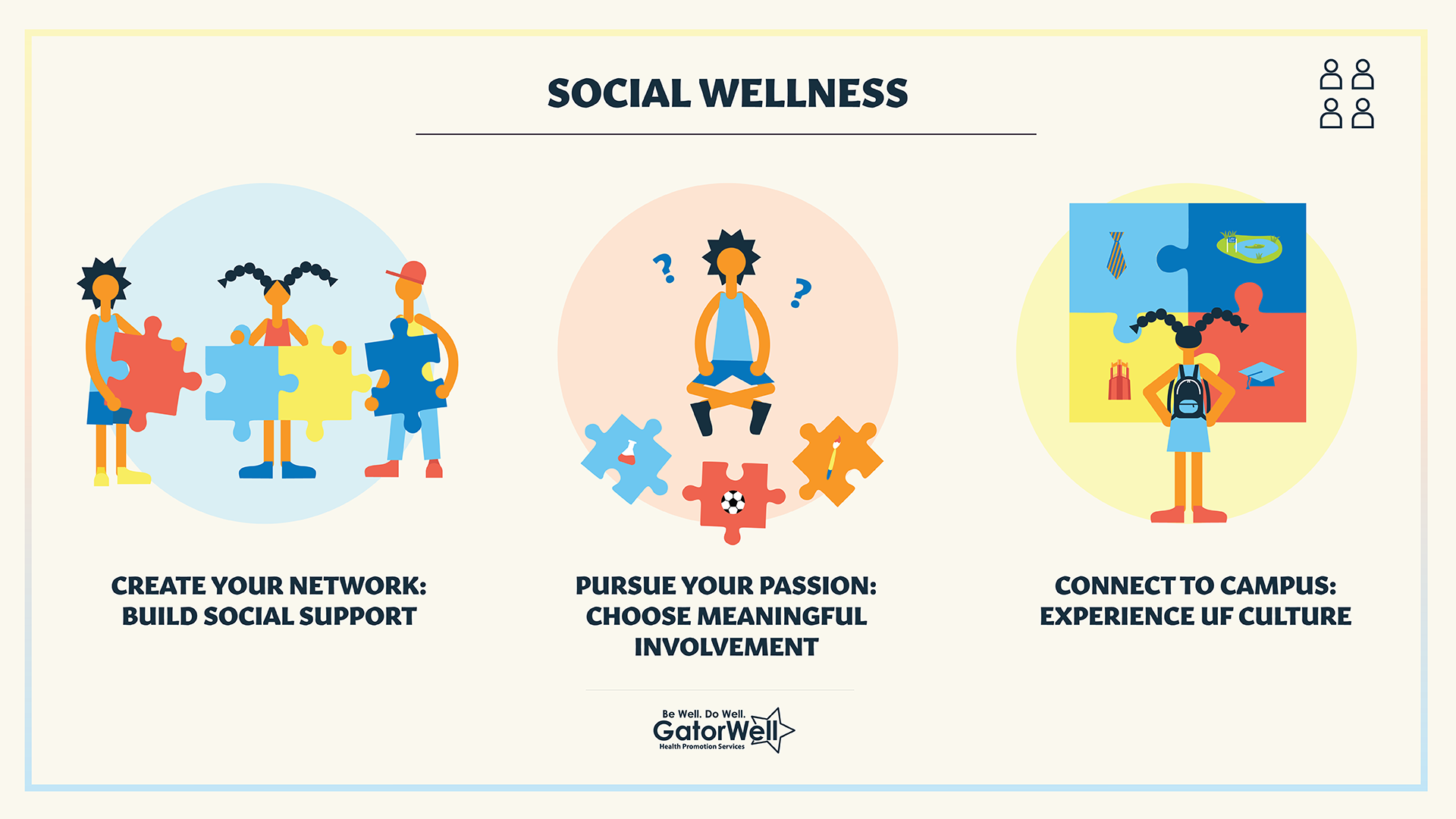 Social Wellness is one of the 9 Dimensions of Wellness that support the holistic student experience. Social wellness is developing a sense of connection, belonging, and a well-developed support system. This includes not only relationships with family and friends as well as how connected to and involved you are in the community.
Benefits of social connection include:
Enhance mood
Improved physical health
Prevent and reduce the effects of depression
There are a number of resources available to support students in building new connections to others and to campus.
Student Activities and Involvement
The Center for Performing Arts
Center for Inclusion and Multicultural Engagement
New Student and Family Programs 
Brown Center for Leadership and Service
Counseling and Wellness Center
Create Your Network: Build Social Support
Social wellness is a huge part of your time in college! And this can happen in so many ways – through professional mentorship, a new roommate, a knowledgeable TA, a thoughtful advisor, a favorite classmate, an intimate partner, or your best friend.
It is critical to our well-being to foster and support these relationships. How can you be intentional in doing that?
Surround yourself with people that are full of positive energy and reciprocate that
Factor time into your schedule for these connections
Practice healthy and effective communication
Focus on trust, respect, and honesty as key values in the relationship
Connect to Campus: Experience UF Culture
College is a time to take advantage of new opportunities and to meet awesome people along the way. With such a big campus, it can be tough to feel connected. A great way to learn more about UF is to take advantage of our beautiful campus, event offerings, and fun traditions that allow the Gator experience to be unique. In doing so, you will get to know other students, learn more about yourself and feel a part of the Gator Nation.
There are many ways students can enhance the link to their college experience. What will work for you?
Get familiar with UF traditions
Discover new events and programs from various campus departments
Attend office hours and advisor sessions within your college
Explore the areas of campus you have never been to
Pursue Your Passion: Choose Meaningful Involvement
There is an involvement opportunity for everyone here! From research, to dance, to language, and hobbies, there is no shortage of ways to spend your time outside of the classroom. By getting involved you can learn more about yourself, grow your skills, and meet others with similar interests. Take time to reflect on your values and passions and find ways to grow those.
Our support system is made up of people from all aspects of our lives. What ways can you get involved that help you build connection?
Explore student organizations and intramural teams
Look for a part-time employment role in your favorite office
Serve as an ambassador for your college or department
Participate in a research lab around your major or minor