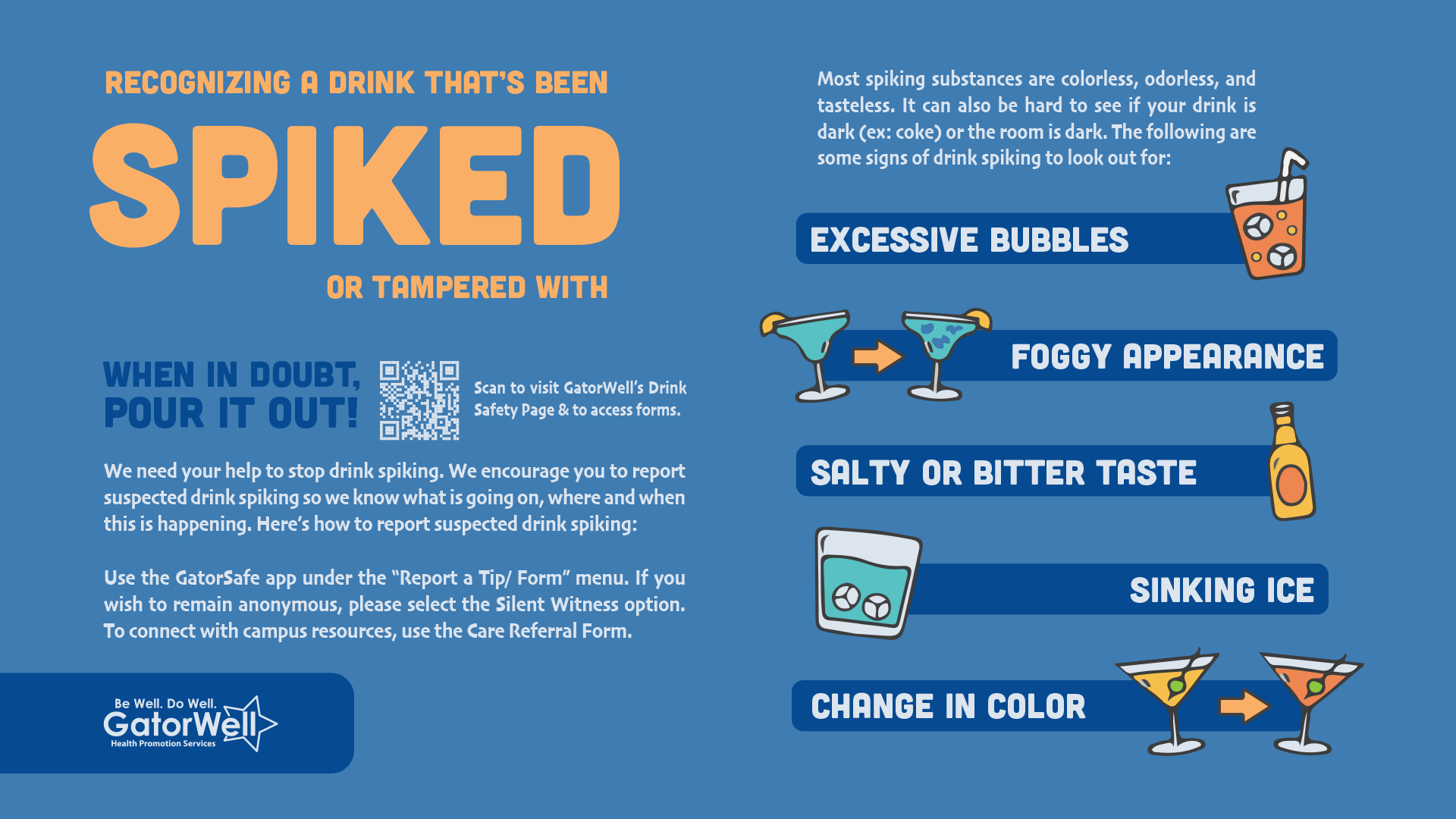 How to Recognize a Drink That's Been Spiked or Tampered With
Most spiking substances are colorless, odorless, and tasteless: It can also be hard to see if your drink is dark (ex: coke) or the room is dark.
Salty or Bitter Taste: Some spiking substances may taste salty or bitter
Foggy Appearance: If your drink looks foggy or cloudy when it was clear before, it may have been tampered with.
Excessive Bubbles: Some drugs fizz and bubble when they react to the contents of a beverage. If your non-carbonated drink is suddenly fizzy, don't drink it.
Sinking Ice: If your ice has sunk when it was floating before, don't drink it.
Change in Color: Some drugs cause a drink's color to become lighter, darker, or even change completely. If your drink has turned a different color, or even if you think it has but aren't sure, don't drink it.
When in doubt, pour it out.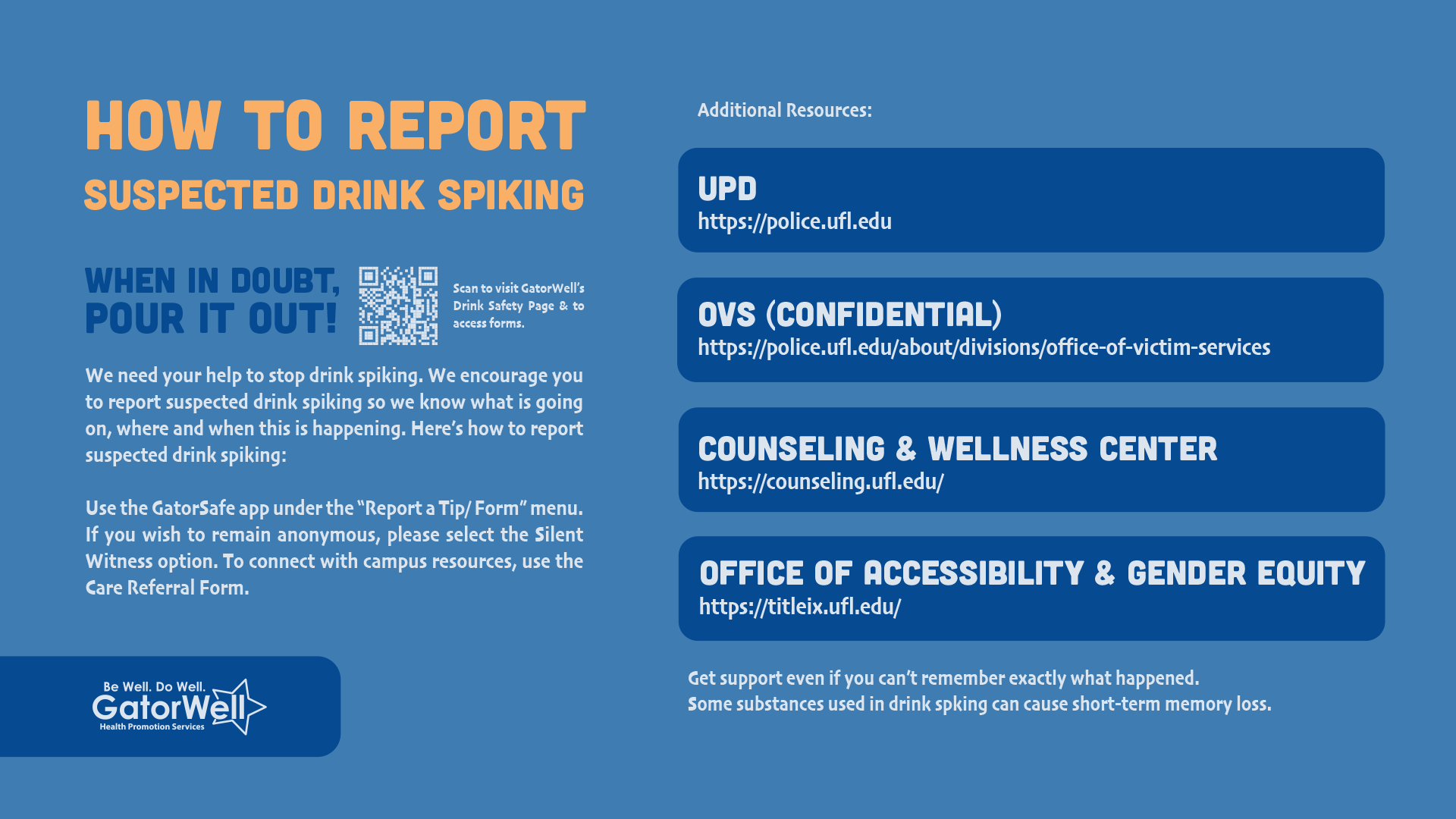 How to Report If You Suspect Drink Spiking
Gators, we need your help to stop drink spiking. We encourage you to report suspected drink spiking so we know what is going on, where and when this is happening. As a community, we look out for our fellow Gators. Here is how you can report suspected drink spiking:
Use the GatorSafe app under the "Report a Tip/Form" menu. If you wish to remain anonymous, select the Silent Witness option
To connect with campus resources, use the Care Referral Form.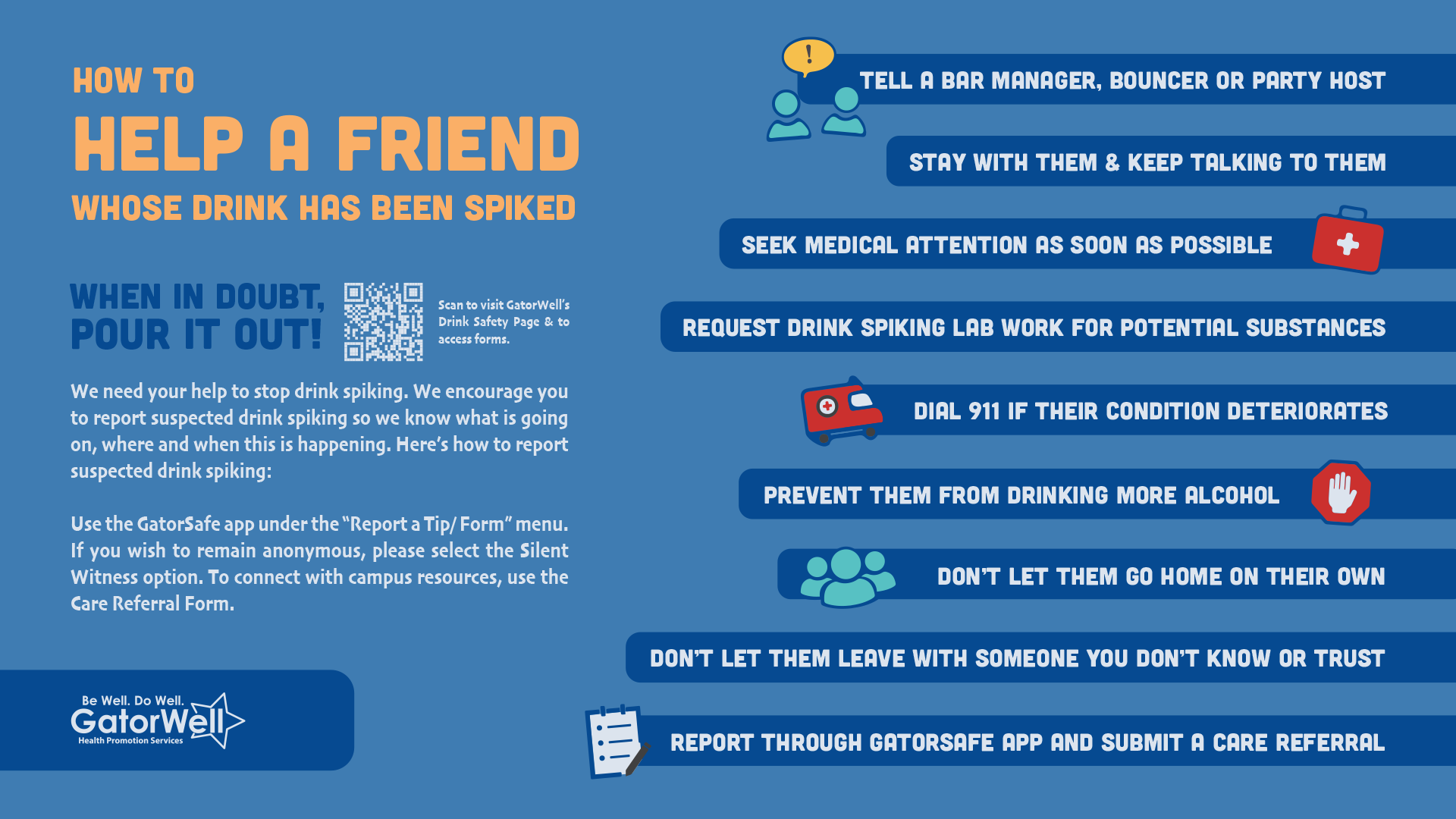 How to help a friend who you think has been spiked
Tell a bar manager, bouncer, or party host
Stay with them and keep talking to them
Seek medical attention as soon as possible
Request drink spiking lab work to test for potential substances
Dial 911 if their condition deteriorates
Don't let them go home on their own
Don't let them leave the venue with someone you don't know or trust
Try and prevent them from drinking more alcohol
Report through GatorSafe App and submit a Care Referral.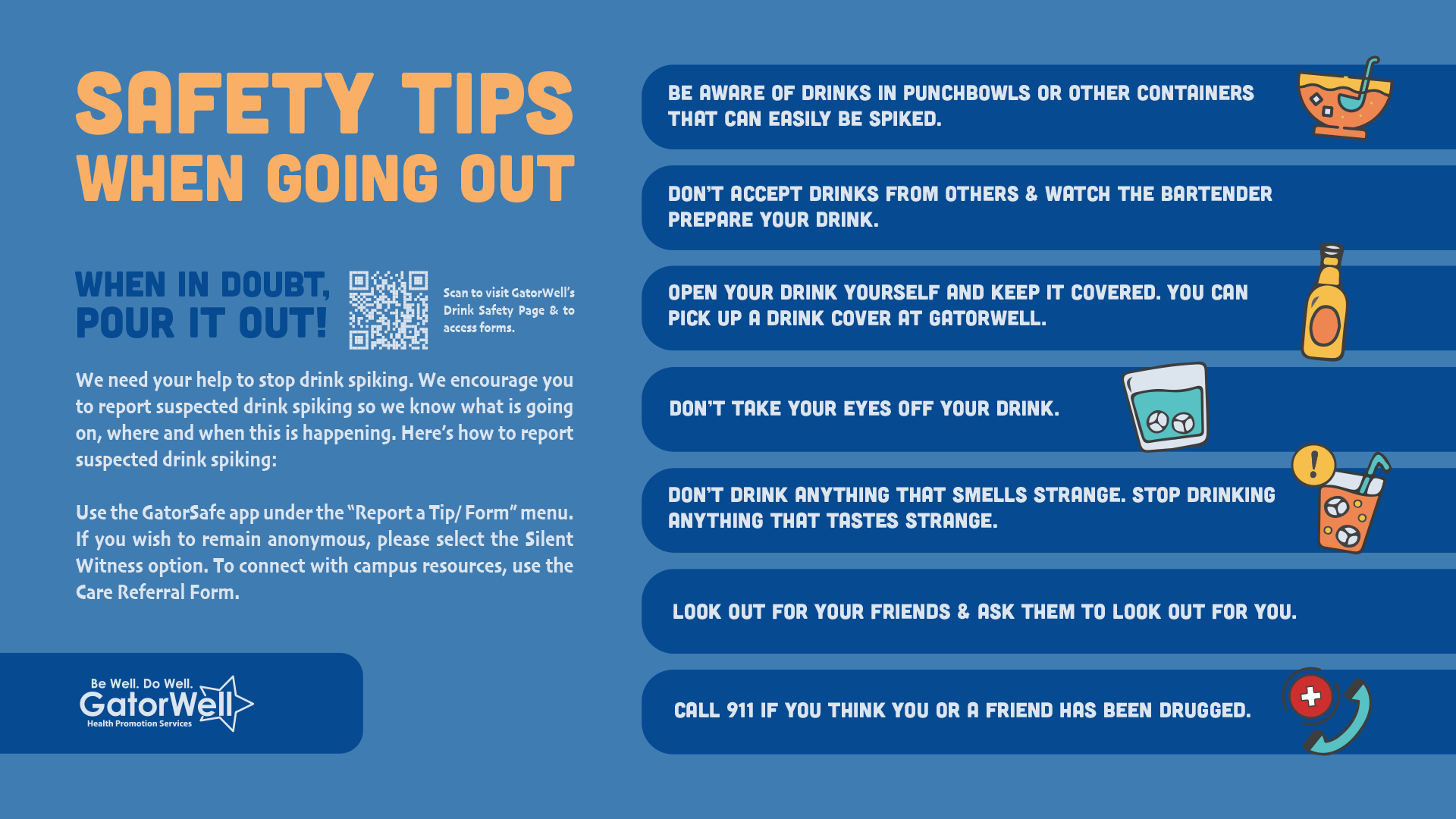 Tips when going out
Party safely and socialize with trusted friends. Plan how you will watch out for each other while you are out. GatorWell Party Safety Tips
Be aware of drinks in punchbowls or other containers that can be easily "spiked" (when alcohol or another drug is added to a drink without permission).
Don't accept drinks from other people and watch the bartender prepare your drink. If someone offers to get you a drink from a bar or at a party, go with the person to order your drink and watch it being poured.
Open your drink yourself or keep it covered.  You can pick up a Night Cap at GatorWell.
Don't take your eyes off your drink. If you go dance, need to use the restroom, or just want to set your drink down, ask a trusted friend to keep watch.
Don't drink anything that smells strange. Stop drinking any drink that tastes strange. Some substances used to spike drinks may taste salty or bitter, but most are tasteless and odorless.
Get help right away. If you feel like the effects of drinking alcohol are stronger than usual. Find a friend who can help you get medical attention.
Look out for your friends and ask them to look out for you. You can play a powerful role in helping others stay safe. If a friend seems out of it, seems much too drunk for the amount of alcohol they drank, is acting out of character, or seems too drunk to stay safe in general, get them to a safe place. Ask your friends to do the same for you.
If you think someone has drugged you or a friend, call 911 or go to a hospital emergency room. Even though it may be difficult, it is important to tell a doctor or nurse what happened and advocate for them to test for the right substances.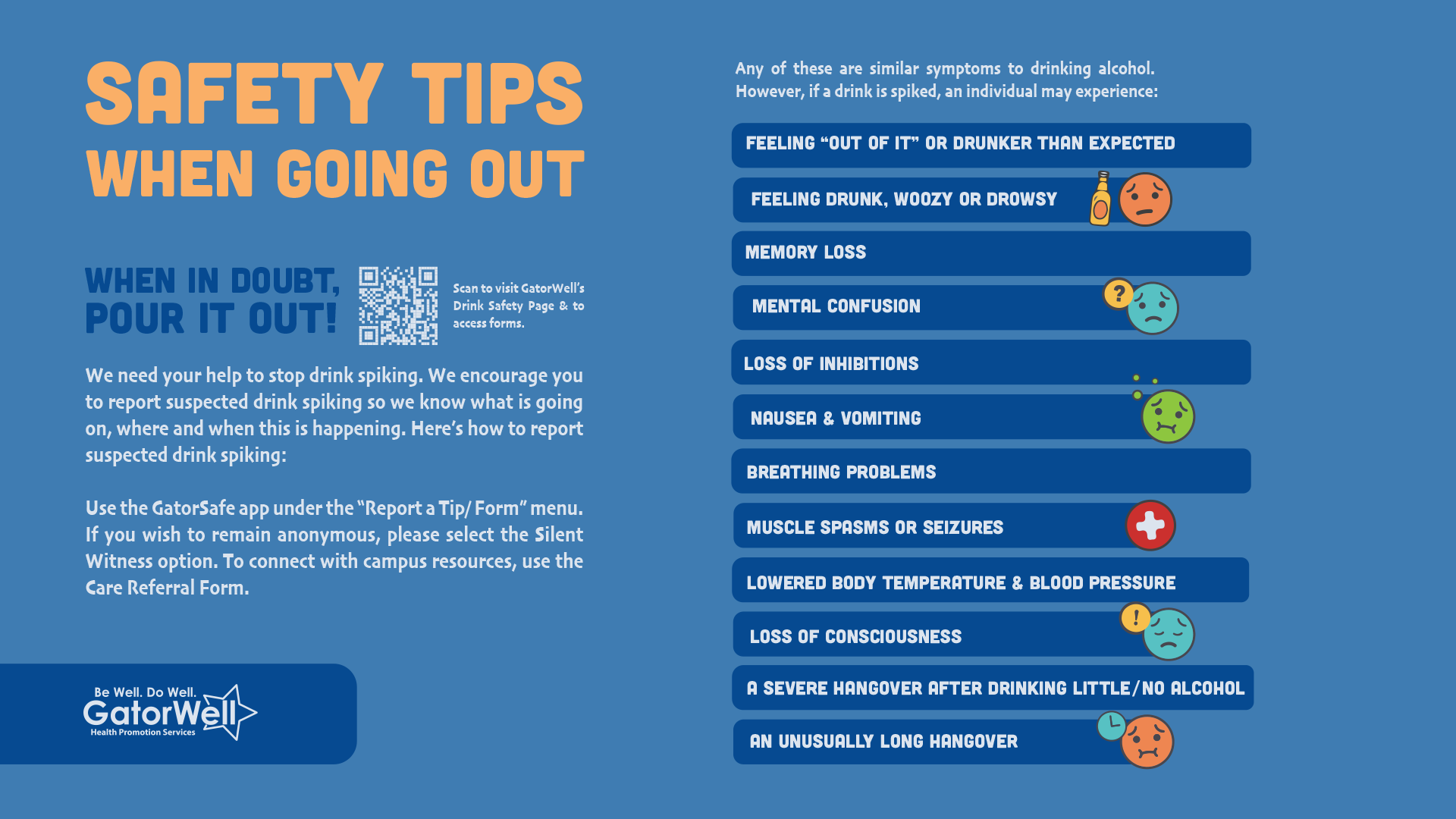 Drink Spiking Symptoms
Many of these are similar symptoms to drinking alcohol. However, if a drink is spiked an individual may exhibit these symptoms after consuming minimal amounts of alcohol:
Feeling drunk, woozy or drowsy
Feeling "out of it" or drunker than expected
Mental confusion
Speech difficulties (such as slurring)
Memory loss
Loss of inhibitions
Nausea and vomiting
Breathing problems
Muscle spasms or seizures
Lowered body temperature and blood pressure
Loss of consciousness
An unusually long hangover
A severe hangover when you had little or no alcohol to drink.
Additional Resources
Get support even if you can't remember exactly what happened. Some substances used in drink spiking can cause short-term memory loss.